Review: The New York Stories of Elizabeth Hardwick, by Elizabeth Hardwick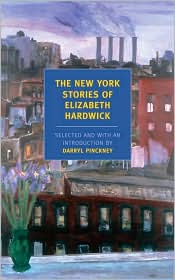 My knowledge of Elizabeth Hardwick is limited: I've read her 1974 collection
Seduction and Betrayal
, and I knew she was from
Kentucky
. Thus ends my knowledge. However in reading this new collection being released in June of this year
, I felt as if Elizabeth Hardwick knew
me.
Hardwick died in 2007, so she couldn't possibly know the "me" I'm talking about – the "me" hardened by being "very busy" as "the urban clocks tick away fatefully," the "me" that has learned to know and appreciate what it is to be "permanently temporary." On some deep and dark level, her stories of New York relate inherently to the New Yorker.
The beautiful imagery, the fated language, everything points to New York as what it is, what it has always been – a constant study in transience, a timeless hub of all entertainment, a preoccupation with being preoccupied--for all of us are transients in the world of showbiz, keeping ourselves preoccupied.
Hardwick's themes are timeless (love, beauty, missed opportunities, innocence – and how we notice these things once we've left the city, superficiality, education, talent – and how they contradict one another), even if all of her people and places are not as timeless. Her characterization of Mrs. Wayland in "A Season's Romance is that of a gritty Lady Catherine de Bourgh; there will always be women like her and she lasts in our modern memory.
But in the same story, her daughter Adele is trapped within her mother's web like a "povera butterfly" because she could not shed her talent and artistry for the sake of superficiality. This is something that we see less and less of as time goes on. Women are stronger than that now. What may have been true of women in society in 1956, when the story was written, is not true today. Just like the
Fifth Avenue
bus that runs north to south today but in "The Purchase" (1959) it runs in the opposite direction.
I felt sad in "Shot: A New York Story" when we met Joseph, whose reaction to Zona's death is "I've known Zona for fifteen years. A long time for
New York
, I guess." It's a statement more than truthful in its evaluation of the
New York
connection. Yet, in our transience we feel "equal to the disappointments and irritations of life even if [we are] certainly not above them." Even in death, our brief relationship with a person will continue to engender an elaborate bridge of loose connections on which the city is founded and refounded with each passing generation.This is what Hardwick understands, and what this collection allows us to hear from her -- that New York is not just a city, but a living, breathing thing with synapses just lying in wait for a connection to need them. It is a chemical wasteland from which life and art is sprung on the smallest of scales.
Our entry into the collection is a story of a New Yorker going back to her Kentucky roots. The personal feel of this story - knowing that Hardwick was from Kentucky and that this story was likely very close to her own revelations about her family and her past - it makes her vulnerable and that much more relatable. We're invited not only into Hardwick's observations of the city, but into her heart. Every sad love story and every bitter ending - they are hers, and they are ours. They belong to New York, as we do.
There were some points where I felt like the stories were really grasping to belong in the collection. Some stories just don't reflect or involve New York so much as the others, but overall it works and it manages to maintain Hardwick's cynicism from front to back with few interruptions. It is well-conceived and bears the mark of a true New Yorker without alienating other readers. But more than anything, it made me feel at home.
The New York Stories of Elizabeth Hardwick
By Elizabeth Hardwick
256 pages
NYRB Classics
(June 1, 2010)