Monday Mailbox #26: The Apologetic Edition
Monday Mailbox is hosted this month by Savvy Verse & Wit.
Hello, my darlings. I must apologize for neglecting you all for so long. I realize it's been two weeks without a peep. This was in part due to my being out of town, in part due to some emotional turmoil, and also in part due to the fall slump. And what a slump it is. I finished
If Jack's in Love
back on 10/8 and now, here we are at 10/24, and I've only finished another book and a half. I feel the energy being sucked out of me. It's awful. I love the fall. I just can't seem to get my reading done. But with only just over two months left in 2011, I've really got to kick my ass into gear. And so, without further ado, we shall commence with the Mailbox portion of this post:
This was an unsolicited ARC from Penguin (Riverhead). The book is due out January 5, 2012 (yay! I have time to read it!) and I haven't done a whole lot of investigating what it's about... so instead I give you a portion an interview (a portion that I think says just enough without saying too much) with Avery, c/o Amazon:
"My first novel, The Teahouse Fire, was about the tea ceremony of Meiji-era Japan. Because the subject matter was one most American readers know little to nothing about, I felt an almost missionary obligation to offer the reader everything I knew about that world--to lecture, really--and the book is paced accordingly.
My second novel, The Last Nude, takes place in Paris between the wars, a setting about which most readers know at least a little, and many readers know far more than I. It isn't news that flappers listened to jazz in the twenties, or that Europe in the forties was a bad place to be if you were Jewish. This time around, I had to learn how not to lecture but to converse, how to give the reader the pleasure of supplying missing information, how to leave things out.
The result of leaving things out is, I hope, a more fast-paced novel than my first. I went into this book thinking about the various pitfalls artists can encounter--surfeit in Tamara de Lempicka's case, loss in Anson Hall's, history in Rafaela Fano's--and I knew that if I was writing a novel about something as un-American as failure, I should at least try to make it sexy and suspenseful."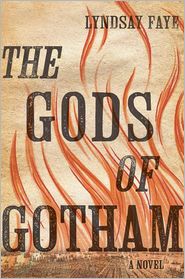 Another unsolicited ARC from Penguin (Amy Einhorn/Putnam), this one's not due out until March of 2012 (woohoo! tons of time!). This one I've actually read the back of (ooh, look, initiative!) and can tell you with certainty that it's a historical fiction that focuses on the dual impact of the Irish potato famine and a new official police force on the city of New York. More on that later.
* * *
Now. I feel like this is an appropriate time to discuss what's happening in the next few weeks in terms of my reading. There are ten weeks left in 2011 and I have THIRTY books that I want to finish in that time. Am I crazy? I'm not going to say no. So. Here we go. I have nine more Barron challenge books, nine books to read for the Sense & Sensibility Bicentenary challenge, four books of random assortment to read by Christmastime (or my family will kill me), and then eight books I promised publishers I would actually read, and it would be good if I did that. Without further ado, here is my planned review schedule...book gods, help me. If any of these dates get changed/updated, it'll show on my "2011 Reads" page.
Jane and the Wandering Eye (already finished! review will be posted 10/25!)
Fezariu's Epiphany (I'm about halfway done. I should have a review up by 10/27)
Dancing with Mrs. Dalloway (planning for 10/28)
A Study in Sherlock (review will post 10/29)
Pumpkin Roll (review will post 10/31) (11/2) (11/3)
The Woman Who Heard Color (hopefully 11/2) (11/4) (11/7)
Jane and the Genius of the Place (11/4) (11/5) (TBA)
Jane and the Stillroom Maid
(11/6)
(11/7)
(TBA)
Guerilla Leader: T.E. Lawrence and the Arab Revolt (11/8)
The Death of King Arthur (review will post 11/10)
Jane and the Prisoner of Wool House
(11/13)
(TBA)
Jane and the Ghosts of Netley (11/16) (TBA)
Jane and His Lordship's Legacy (11/19) (TBA)
Confessions of a Shopaholic (11/20)
Jane and the Barque of Frailty (11/22) (TBA)
Willoughby's Return (11/25)
Eliza's Daughter (11/27)
Jane and the Madness of Lord Byron (11/29) (TBA)
Brightsea (12/1)
Jane and the Canterbury Tale (12/4) (TBA)
Gone with the Wind (12/6)
Scarlett (12/8)
To Kill a Mockingbird (12/11)
The Cookbook Collector (December date TBD)
The Three Weismanns of Westport
(December date TBD)
Sense & Sensibility (December date TBD)
Sass & Serendipity (December date TBD)
The Dashwood Sisters Tell All (December date TBD)
Elinor & Marianne (December date TBD)
The Rape of the Muse (this one will have to be read in my spare - ahahaha - time... so date is totally TBD)