Monday Mailbox 9/10/12
Hello, and welcome to Monday Mailbox. This month, Monday Mailbox is being hosted by Kristen over at
BookNAround
.
This week I picked up a handful of plays at my office. I also made an Amazon purchase, but those haven't arrived yet, so that'll be for next week. :D As for this week:
Lillian Hellman and I go way back to junior year of high school when everyone got assigned a playwright on which to do this giant soul-crushing four-phase project. The year was 2001. The internet was sizeable, but it wasn't the Rancor it is today. YouTube was four years away; Wikipedia was still a fledgling site with only about 20,000 pages (today it has 22 million, 4 million of which are in English); and internet memes were
somewhat less interactive
. This meant a lot of time was spent in the school library trying to dig up information on a playwright that most people have probably never heard of. I had no access to JStor or Academia.org, and Google did not respond with the some 700,000 results if you searched "Lillian Hellman" as it does today. This meant I had to be very creative, and I had to be a little more critical of her plays on my own. So I read all of them. There's a soft spot in my heart for the broad; she was no-nonsense, she was a bitch, and she was kind of brilliant.
I'm not going to pretend that anyone didn't read this in high school.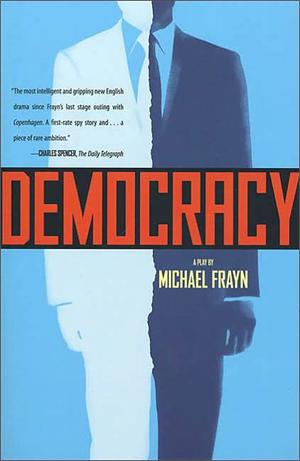 Michael Frayn may be better-known for his theatrical farse Noises Off which is, perhaps, the funniest damned thing ever written outside of a Dave Barry column (to me, at least) but his drama is also pretty awesome. This one is a spy drama that takes place in West Germany. The Broadway productionn (2004-2005) starred James Naughton and Richard Thomas, and it was one of the first Broadway shows I bought my own ticket for after moving to New York for college.
Did anyone else pick up plays this week?