I Know What I Did This Summer, or On Writing and Stress
That dinosaur
knows what's up.
At the beginning of the summer, I started a review on a book I had just finished reading. In the middle of writing, I entered into a very stressful and emotional period of time, and I shot out of gear. Sure, it wasn't a book I'd really enjoyed, and the review wasn't going to be stellar, but I felt like I could no longer really write. I was having regular anxiety attacks, I wasn't sleeping, and even my regular journaling started to suffer. It has taken me three months and a lot of stress-eating/drinking, but I think I'm starting to get back on track. My liver may have something else to say, but she'll have to get her own blog for that.
In this time, I kept reading, though not as much as I'd have liked to; I read George R. R. Martin's Song of Ice and Fire series. My roommate and I flew through the first four books, and now I'm about 325 pages into the fifth. It's a little slow-going, but I'm trying to plough through. Not just because I want to get to the end so I can talk about it, but because this kind of reading has always lead to a more fertile time in my writing. Whenever I've put down an epic kind of fantasy series like this (the last one I think was Stephen Lawhead's King Raven trilogy), I've followed it up with some ferocious reading and writing. And that's what I'm really excited about. I'm ready to get back into the swing of things.
In this time, I managed to find my entertainment elsewhere. I saw one of Roundabout's productions called
The Unavoidable Disappearance of Tom Durnin
. I didn't think it was fantastic, but its main themes were writing, families ties, and stress...so I related. I also (finally, after living here for ten years) went to Shakespeare in the Park. Twice. I saw both main productions there this summer -
The Comedy of Errors
and a musical adaptation of
Love's Labour's Lost
. And I went to my first NYMF show which happened to be the show I did at Fringe (and the Westchester Square Festival) last year,
The Hills are Alive
.
I also did a lot of movie watching (on Netflix) and movie-going. My roommate introduced me to
A Fish Called Wanda
and
Delirious
(I also watched
The Hunger Games
for the first time, but still haven't read that series) and we watched the entire series of
Battlestar Galactica
(Jamie Bamber, not Richard Hatch...actually, that's confusing since Hatch was in both, but you know what I mean) and I re-watched
Lost
. Yep...that kind of summer.
For the record, on second watching, the finale made a teeny bit more sense.
But not by much.
In June, I saw
The Purge
(which was good, not great, and super-predictable) and
Man of Steel
...which was what it was...frankly, Russell Crowe wasn't singing, so it was already 400x better than the last thing I saw him in....
In July, I saw
Now You See Me
which was entertaining, and
The Way Way Back
which mostly just made me wish I was watching
Adventureland
. But Sam Rockwell was great. I saw
The Heat
which was unfortunately not all it was hyped up to be, and
The Conjuring
which wasn't terrifying, but it was just scary enough to make me happy about my decision to see it with a group of friends; it was akin to
The Woman in Black
and
The Amityville Horror
in that I spent most of the film with my sweater over my eyes
.
Good times, those.
Then, in August, I went to the midnight screening of
Sharknado
which would have been a litttttle more enjoyable if it weren't at midnight and/or if I didn't have to be at work at 10 the next morning (I must be getting old) but, as everyone knows, that film is just...stellar. It's art, man. I also saw
We're the Millers
which was pretty funny, and was made even more hilarious by the fact that I was sitting in an almost empty theatre on a Wednesday morning with a bunch of sixty-year-old women who thought it was to die for. I thought one of them would have a heart attack when the trailer for
Bad Grandpa
was rolling. And then the roomie and I saw
The World's End
which was everything I wanted it to be -
Shaun of the Dead
+ Hot Fuzz
+ alcohol + those creepy kids with glowing eyes from Bonnie Tyler's "Total Eclipse of the Heart" music video.
Last night, I finally broke down and saw
Austenland,
based on the
Shannon Hale's novel of the same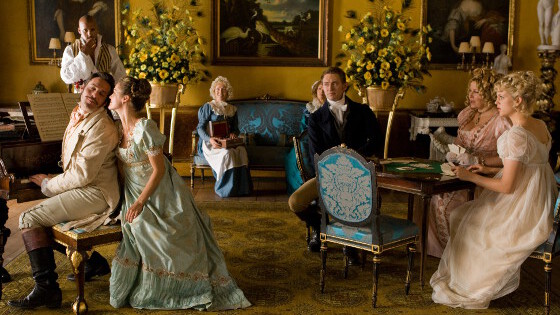 name. Keri Russell was sufficient and Jennifer Coolidge was perfect. And JJ Feild (who played Henry in the '07
Northanger Abbey)
was appropriately Darcyesque and satisfactory. But the nicest surprise was James Callis (that's right, bringin' it back to Battlestar!) who plays Coolidge's scripted "lover," the Colonel.
Anyway, I think I'm getting back to where I want to be. And, as soon as I actually finish
A Dance with Dragons
(and come back from my mid-month vacation all refreshed and stuff) I'll be ready to begin again. Until then, let me leave you with
my review of Karen Doornebos' Definitely Not Mr. Darcy
which, in my opinion, tackles the
Austenland
conceit with more skill.