Review: Just My Type, by Simon Garfield
Just My Type
a book about fonts
by Simon Garfield
Gotham Books
September 1, 2011
$27.50 / 356 pgs
WARNING:

Take a good look around you - at signs, advertisements, books, bills and instruction manuals - take a good look. You'll never look at these things the same way again.
That should be the warning on Simon Garfield's clever, intelligent and, almost more importantly, very entertaining book,
Just My Type
- A book about fonts, new today from Gotham Books. It's one thing to dabble in fonts. I think everyone dabbles a little, from choosing the right font to word your essay in (i.e. maybe something a little wider, something that will inevitably make it look like more when you've written less?) to choosing the right fonts for your blog or for a homemade card, or for a business card, or maybe to advertise a lost dog.
Doesn't Talky Tina seem a little friendlier on the left?
You may not, however, know the history of the fonts you have at your fingertips, but you can appreciate certain nuances in the way a font can make you feel. For example, a flier advertising babysitting services in a small neighborhood can look charming and cutesy in something like Curlz MT, but in fonts like Lucida Blackletter, it's kind of... uncomfortable.
Fonts are extensions of one's personality. We use them to emphasize, to cheer up, to show sincerity, and to establish power. What Garfield does is explain where these things called fonts came from, and why we have certain responses to certain letter forms. There are only 26 letters and over 100,000 different typefaces... there's only so much time in the world, so don't expect an explanation of every font ever, but Garfield does an excellent job of covering the basics, from the earliest printers to the newest faces in typefaces (for example Calibri, one of Microsoft's oft-used fonts of late was only created a few years ago - why didn't they stick with the ever familiar and comfy
Helvetica
(which you New Yorkers
may
recognize from your local subway signs which use Helvetica Neue, an updated Helvetica) or the user- and web-friendly
Georgia
? That's what this book is about - the whos, whys, wheres, whens and hows of fonts.
And I promise, once you start, you're going to start analyzing all of the branding and packaging around you. For instance, I can tell you that the font on my window fan's box is
Trebuchet
because I'm familiar with Trebuchet's individual body parts - its ascenders and descenders, its counters and tails - geographical features that form the map of the font. And trust me, once you know what to look for, you might not stop.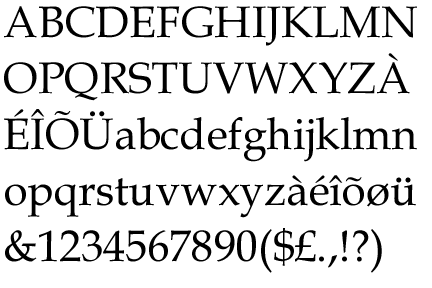 Book Antiqua (a slab serif, Copse was,
I think, the closest thing I could find to
it, hence Copse on the blog.)
For the record, this blog is written (mostly) in Copse, and my blog's header - where it says The Literary Gothamite - is in Chunk Type, which looks kind of like American Typewriter meets Blur. And that bit at the top, my "warning" about Garfield's book? That's in
Courier
. Because I mean business. Now go read the book and figure out what I'm talking about. :) Make sure you check out the videos on the publisher's website:
check it out!
And for the record, Book Antiqua is just my type... but Google/Blogger doesn't have it. (Boo.) Find out what your type is based on your personality:
with Pentagram.