Monday Mailbox #27
Monday Mailbox is hosted this week by the original Monday Mailbox blog.
Okay, so it's been a couple of weeks. I hadn't gotten anything in a while. I've been putting off looking into books for the spring because a) some January books came my way unsolicited in the last MM, and now I've got another one...also I've been busy playing catch-up with my reading. It sucks. I hate having to play catch-up. It makes me unpleasant. And that, in turn, can be reflected in my response to what I'm reading. Oy. Anyway, here we go: one book this week, another January 2012 book (yay for having plenty of time to get around to it!)
The Western Lit Survival Kit
An Irreverent Guide to the Classics,
from Homer to Faulkner,
by Sandra Newman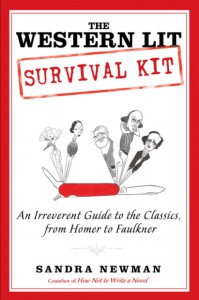 I received this from Gotham Books through the LibraryThing.com Early Reviewers Program. As I mentioned, it comes out this January. I haven't flipped through it yet, but I did take a gander at the Table of Contents, and I think it has the potential to be pretty funny. For example:
Chapter 2. Ancient Rome: When the World Was Ruled by Italians
Chapter 5. William "Look At Me, I Get My Own Chapter" Shakespeare
Chapter 6. Here Come the Puritans: Parade, Meet Rain
Chapter 9. The Romantics: The Author as (the Author's) Hero
Chapter 11. Nice Realism: The Novel Novel
Chapter 12. Unwelcome Realism: The French and Russians Team Up to Depress Mankind
It's tongue-in-cheek and I like it.
*Throws it on the pile.*
*Glances at pile*
*Cries a little*