Review: The Last Nude, by Ellis Avery
For the record, the image on the cover
is not "Belle Rafaela" but "The Dream",
also by Tamara de Lempicka.
New from Riverhead this month, Ellis Avery's
The Last Nude
is a sensual artistic study of a young girl's rise to womanhood in (always) the wrong hands. Set up similarly to Tracy Chevalier's
Girl With a Pearl Earring
or Kelly Jones'
The Woman Who Heard Color
, the novel involves a heady dose of both historical accuracy (there are real paintings that you can reference) and imaginative realism which make the story move along at a decent pace with beautiful imagery.
The story takes place in Paris in 1927, between the wars, before the crash of '29, in the Jazz Age - a period of liberal artistic expression and freedom. It's the time of Ernest Hemingway and Thornton Wilder, of Scott and Zelda Fitzgerald, of Gertrude Stein and Alice B. Toklas. One sunny afternoon, painter Tamara de Lempicka selects narrator Rafaela to be her model, her muse and, eventually, her lover. She paints her a number of times over the course of the next several months, but her magnum opus is "Belle Rafaela" which de Lempicka paints two separate times with Rafaela posing...this leads to a bundle of money for Lempicka, fame, and the main drama of the novel.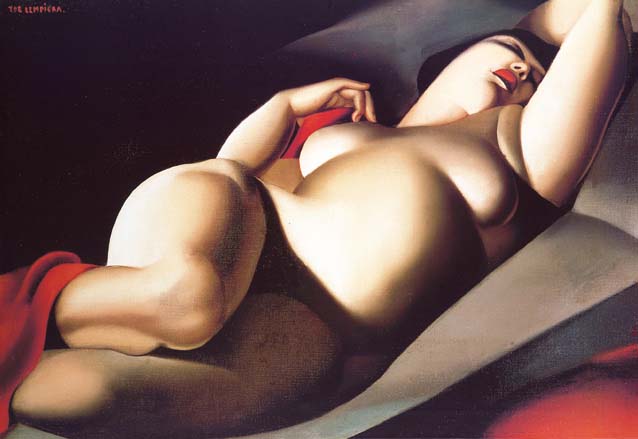 "La Belle Rafaela"
The parallels with
Girl With a Pearl Earring
are almost too clear (though both novels are works of historical fiction, we have really no information about either de Lempicka or Vermeer's model) and Vermeer's paintings even make an appearance in a book that Rafaela flips through. But whereas the sexual tension of the Chevalier novel really works towards its advantage, there's almost no sexual tension in Avery's novel. We hear Rafaela's thoughts about Tamara - we're there with her in Tamara's bed* - but their relationship is somewhat cold. And when Tamara reveals herself to not be everything Rafaela thought she was, the reader can hardly be expected to show surprise.
Avery tacks on an extra 55 pages or so at the end ("Part Two") in which we're re-told the story from Tamara's point of view. Tamara is much older now - almost on her death bed - but she recalls for us both her reasons for doing what she did, as well as what we don't know about what happened after the events of "Part One." It seems that this extra bit was added to create depth, another dimension to the story maybe. But what it comes across as is an exculpatory mess of excuses that Tamara has for herself. It only makes the story seem even colder.
Rafaela, on the other hand, is warm and passionate despite the world's treatment of her. She's worth rooting for and her slow maturity from childlike observations to womanly righteousness makes her a valuable narrator. If you don't read it for anything else, read it for her.
*Yes, you can expect some lesbian love scenes. I completely skipped the back cover before I started in on this book and was therefore totally confused when I got almost 40 pages into the book and found myself in the middle of their amour. It was fairly uncomfortable not being prepared for it...but now you've been warned.